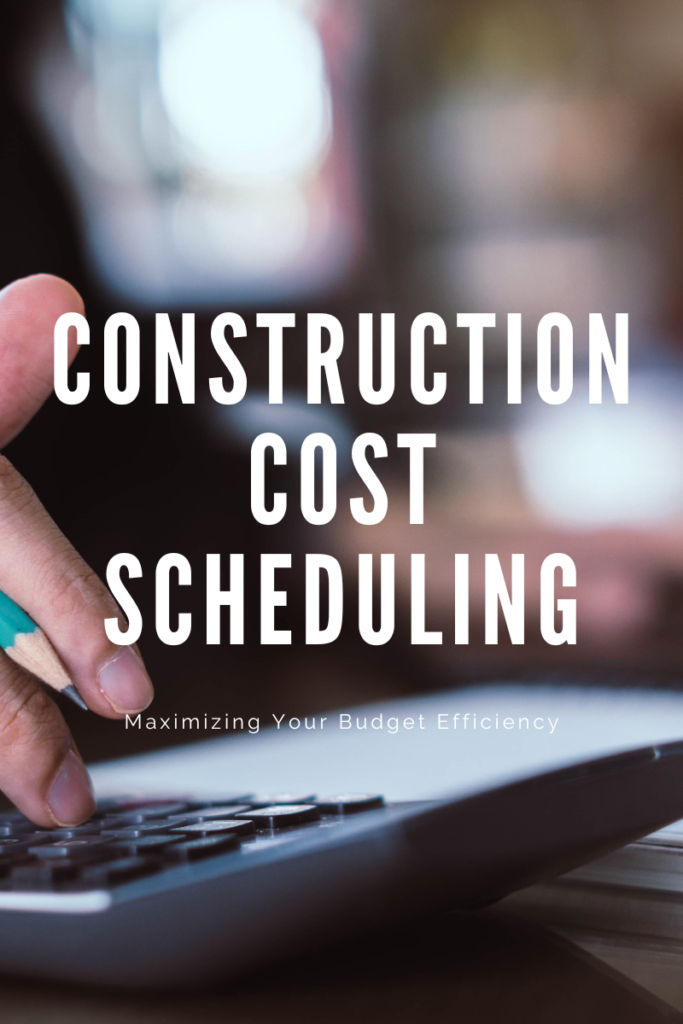 Understanding Cost Scheduling
The Keystone to Successful Construction Projects
Cost scheduling is a critical component of construction project management. But what exactly does it mean? To put it in simple terms, cost scheduling is a systematic process of estimating, budgeting, and controlling the costs involved in your construction project. It's our map that guides us on when and how the allocated budget will be spent throughout the project timeline.
Let's break this down a bit further:
Cost Estimation
At the beginning of your project, we calculate the total cost required to build your dream home. This includes everything from materials, labor, and equipment, to permits, inspections, and other related expenses. The goal here is to give you a comprehensive view of the financial scope of your project.
Budgeting
Once we've estimated the costs, we develop a detailed budget. This budget takes into account all anticipated costs and includes a contingency fund for any unforeseen expenses. This ensures we're financially prepared for every scenario.
Cost Baseline
After you approve the budget, it becomes what we call a "cost baseline." Think of this as our financial yardstick – we use it to measure and track actual costs as your project progresses.
Cost Control
This is where our expertise really shines. We meticulously monitor and compare the actual costs with the cost baseline. If we see any deviations, we take immediate corrective action. This allows us to keep your project within the agreed budget.
Cash Flow Forecasting
We project the inflows and outflows of cash during your project. This helps us to ensure there is sufficient cash to cover all project expenses as they occur, keeping the project running smoothly.
Time-phased Budget
We allocate a portion of the budget to each phase or task of the project. This helps us make sure that spending aligns with project progress and allows us to manage your funds more effectively.
This may sound complex, and indeed, it requires a deep understanding of the construction process. But that's where our expertise comes in. At Keystone, we have the knowledge, experience, and tools to manage this process effectively, so you don't have to. Our aim is to make your construction project as stress-free as possible, and cost scheduling is one of the many tools we use to achieve that goal.
The Significance of Cost Scheduling in Construction
Now that you have an understanding of what cost scheduling is, let's explore why it's so important, especially in construction projects.
Cost scheduling forms the backbone of our project management strategy at Keystone because it offers multiple benefits:
Avoiding Cost Overruns: One of the most significant challenges in any construction project is the risk of costs spiraling out of control. Cost scheduling enables us to accurately estimate expenses, maintain a detailed budget, and constantly compare this with actual costs. This vigilant approach helps prevent cost overruns and keeps your project on budget.
Aligning Spending with Progress: Without a clear schedule, it can be difficult to ensure spending matches project progress. Through cost scheduling, we distribute the project's budget across its timeline according to the planned work at each stage. This alignment provides a clear understanding of what part of the project your money is being invested in at any given point.
Clear Financial Understanding: Cost scheduling paints a clear picture of the project's financial status at any moment. This transparency allows you to understand how your investment is being used, empowering you with the knowledge to make informed decisions.
Risk Management: Through regular monitoring and controlling of costs, we can identify any potential financial risks early. This early identification gives us the opportunity to mitigate these risks, ensuring the financial stability of your project.
Confidence in Completion: With a robust cost scheduling system in place, we can confidently predict the completion of your project within the defined budget and timeline. This not only provides peace of mind but also allows for better coordination with any plans you may have post-construction.
At Keystone, we place high value on each of these benefits and believe they are key to ensuring your construction project is a success. Our professional cost scheduling services offer a comprehensive solution to manage the financial aspects of your project effectively and efficiently.
Cost Scheduling and The Keystone Company
Your Project in Expert Hands
At Keystone, we believe that the cornerstone of any successful construction project is a well-defined and carefully executed cost schedule. We bring our extensive experience and industry knowledge to the table when we craft a cost schedule for your project.
Here's how we incorporate cost scheduling into our services.
Accurate Cost Estimation
Our expert team uses their deep understanding of construction processes and costs to deliver a thorough and accurate cost estimation. This foundational step ensures that we're starting off on the right foot, with a realistic view of the resources needed to bring your vision to life.
Detailed Budgeting
We develop a comprehensive budget that includes all aspects of your project. From materials and labor to contingencies for unexpected costs, our budgets leave no stone unturned.
Rigorous Cost Control
At Keystone, we take cost control seriously. Our team consistently monitors and compares the actual costs with the cost baseline. By identifying any deviations early, we're able to take corrective measures promptly, ensuring your project stays on track.
Efficient Cash Flow Forecasting
Our experts use advanced techniques to project the cash inflows and outflows during the project lifecycle. This forecasting is essential in ensuring we always have sufficient resources to keep your project moving forward smoothly.
Effective Time-Phased Budgeting
By tying the budget to the timeline, we ensure that every phase of your project has the funds allocated to it when needed. This technique helps us to manage your funds more effectively and ensures that spending aligns with project progress.
At Keystone, our commitment to you is not just about building homes; it's about building trust and long-lasting relationships. Our adoption and efficient implementation of cost scheduling is one of the many ways we honor this commitment.
With us, your project's budget is not just a figure; it's a well-thought-out plan designed to bring your dream home to life without financial stress.
How Cost Scheduling Benefits Homeowners
Empowering Your Construction Journey
As a homeowner embarking on a construction project, you might be wondering how cost scheduling specifically benefits you. At Keystone, we believe that our cost scheduling services bring immense value to your project, making your construction journey smoother and more predictable. Here's how:
Expertise at Your Fingertips: Our experienced team at Keystone offers professional cost scheduling services that are based on industry best practices and decades of experience. We bring our expert knowledge of construction costs, timelines, and processes to your project, providing more accurate and comprehensive cost estimates.
Peace of Mind with Cost Control: Keeping a construction project within budget can be a daunting task. With our cost scheduling services, we ensure your project stays on budget through regular cost updates and timely adjustments. Our meticulous cost control measures reduce the risk of cost overruns, giving you peace of mind.
Efficient Time Management: Cost scheduling is not just about managing costs; it also plays a pivotal role in managing time. We break down the construction process into individual tasks and allocate a portion of the budget to each task. This schedule-driven approach ensures that your project stays on track, aligning the budget with the project progress.
Proactive Risk Management: With our experience in the industry, we know that unexpected issues can arise during construction projects. Cost scheduling allows us to identify and manage these risks early, preventing cost overruns and schedule delays. This proactive approach keeps your project running smoothly.
Streamlined Financial Planning: Building a home involves significant financial commitment. Our cost scheduling services offer a detailed forecast of the cash inflows and outflows, helping you to plan your finances accordingly. This financial clarity reduces stress and allows you to focus on the exciting aspects of seeing your dream home come to life.
At Keystone, we strive to make your construction experience as stress-free as possible. Our professional cost scheduling services play a vital role in this endeavor, allowing us to manage your project's budget and timeline effectively and deliver your dream home without financial strain.
Cost Scheduling in the Home Building Process: A Guiding Beacon from Start to Finish
The power of cost scheduling is not just in its function but also in its implementation throughout the construction process. At Keystone, we believe that integrating cost scheduling from the beginning to the end of your home building project is crucial to its success. Here's how it unfolds:
Initial Planning and Design Phase: This is where our cost scheduling journey begins. As we start to shape the blueprint of your dream home, we simultaneously develop a detailed cost estimate. This estimate includes all possible expenses related to materials, labor, equipment, and permits, among others. This initial cost estimate lays the foundation for the budget of your project.
Budgeting and Baseline Establishment: Once the cost estimate is approved, we create a detailed and time-phased budget. This budget serves as the cost baseline against which we monitor and control the project's actual costs. The cost baseline is a crucial tool in managing your project's financial health.
Construction Phase: As the actual construction commences, cost scheduling really comes to life. We continuously track the actual costs incurred against the cost baseline. Any deviations are immediately addressed, ensuring your project stays on budget. Concurrently, we use the cash flow forecasts to manage the funds effectively, ensuring smooth progress of construction work.
Project Closeout: Even after your home is built and ready for move-in, our cost scheduling task is not over. We carry out a final financial review to make sure all costs have been accounted for and all vendor payments have been made.
At Keystone, cost scheduling is not an afterthought—it's an integral part of our project management approach. It's woven into the fabric of every project from start to finish, guiding us in every decision we make. This comprehensive approach ensures that we deliver your dream home on time and within budget, mitigating risks and providing transparency every step of the way.
Why Choose Keystone for Cost Scheduling Services?
Your Dream, Our Mission
Building a home is an exciting journey, and selecting the right partner for this adventure is crucial. At Keystone, we don't just build houses, we bring dreams to life. Here's why choosing Keystone for cost scheduling services is a decision you won't regret:
Proven Track Record
At Keystone, we have a long history of successfully completed projects in Santa Barbara and the surrounding areas. Our proven track record demonstrates our commitment to delivering high-quality construction services while maintaining strict control over costs and schedules.
Expertise and Industry Knowledge
Our team is comprised of seasoned professionals with extensive experience and deep understanding of the construction industry. This expertise allows us to accurately estimate costs, create detailed budgets, and effectively manage costs throughout the project lifecycle.
Personalized Service
We believe every dream home is unique, and so should be our approach. Our cost scheduling services are tailored to your specific project, taking into account your unique needs and aspirations. We are committed to providing personalized service that puts your vision at the forefront.
Transparency and Communication
At Keystone, we value open communication and transparency. Our cost scheduling services offer a clear view of your project's financial status at every stage. We believe in keeping you informed and involved in the decision-making process, ensuring your peace of mind.
Commitment to Satisfaction
Your satisfaction is our ultimate reward. We are dedicated to delivering a home that not only meets but exceeds your expectations. Our cost scheduling services play a vital role in this commitment, helping us deliver your project on time and within budget.
Choosing Keystone for cost scheduling services means choosing a partner who understands your vision, respects your investment, and is dedicated to making your dream home a reality. With us, your project is in expert hands.