The decision to hire a retaining wall contractor in Southern California is important.
Building a retaining wall requires careful consideration of structural and aesthetic design elements, as well as the expertise of experienced contractors who understand the unique geological characteristics that can affect the outcome of any project. With so much at stake, it pays to know what makes a good contractor – from experience with local soil conditions to reliable customer service.
Retaining walls is essential in stabilizing slopes and hillsides across Southern California.
They are especially valuable when used to prevent erosion, reinforce foundations, or beautify properties on steep grades. But this type of construction must be done correctly to ensure its success; hence, finding the right professional for your job should be the top priority.
Recognizing quality workmanship and trustworthiness when selecting a contractor will not only help you get the best results possible but also provide peace of mind knowing your property is safe and secure with every step taken during installation.
In this article, we discuss identifying reputable retaining wall contractors in Southern California and provide tips on ensuring they're up to standard before hiring them for your project.
What Are Retaining Walls?
Retaining walls provide a convenient and reliable way of controlling soil erosion and an aesthetically pleasing addition to any landscape. When planning to construct a retaining wall in Southern California, it is important to find a contractor who is experienced and qualified to handle such projects.
The Keystone Company – Experienced Retaining Wall Contractor
As a licensed contractor with extensive experience in building high-quality retaining walls in Southern California, the Keystone Company will get your retaining well built with precision and expertise. Our team has been providing top-notch services for decades, with a portfolio full of successful projects that testify to our experience.
Our knowledge of engineering principles and materials for constructing retaining walls has allowed us to complete numerous regional residential, commercial, and industrial projects.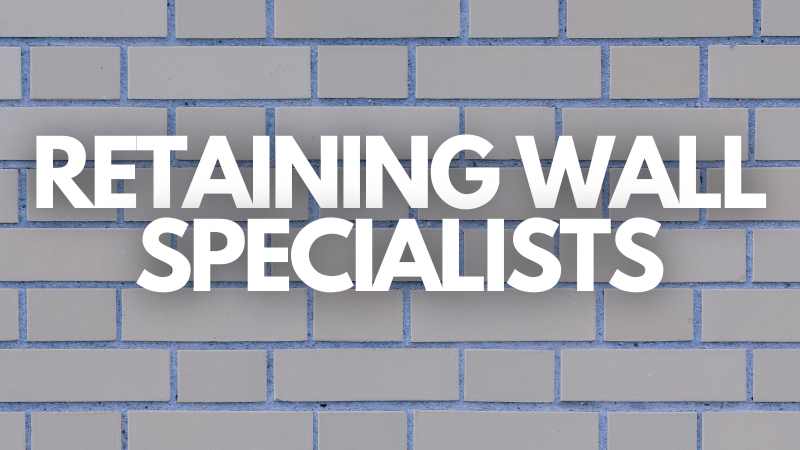 By choosing the Keystone Company, you can be assured that your project will meet all safety standards set by local authorities, get done within budget, and within the intended timeline.
Additionally, our team can provide expert advice regarding design elements and material selection, ensuring that your project meets your specific needs and preferences.
Trust in our experience and expertise to deliver a high-quality retaining wall that will meet your expectations and stand the test of time.
Contact us today to learn how we can help you with your next project.
Researching Potential Contractors
Finding the right retaining wall contractor in Southern California can be daunting. It is important to research contractors before deciding, as it will help ensure that you get the best results for your project. To begin with, look for experienced masonry contractors in Santa Barbara and Ventura counties who specialize in retaining walls. Ask for referrals from friends or family members who have previously used their services. Check online reviews and ratings of the company's work and its customer service record. Additionally, inquire about any certifications or licenses the contractor holds—especially if they are working on public property or dealing with hazardous materials such as underground water lines.
Take some time to learn more about each potential contractor and compare their qualifications.
Find out what type of materials they use and how long they estimate projects should take, and understand their experience level.
Interviewing Potential Contractors
When interviewing potential contractors for a retaining wall project in Southern California, it is important to find an experienced masonry or general contractor. The right contractor should be able to provide references from previous projects and demonstrate the necessary qualifications and certifications to complete a block wall successfully.
It is also essential that the prospective contractor has experience with local building codes and regulations as well as procedures required to obtain permits in Southern California. They must know how seismic activity affects walls and any other safety considerations when constructing a block wall.
Choosing a professional who can communicate effectively concerning the project timeline, budget expectations, quality assurance protocols, etc, is critical.
In addition, ask questions about their processes for job site cleanliness and dust control during construction, as these are key factors for the successful completion of the project. A reputable contractor will ensure all debris from the excavation is disposed of properly after each day's work and keep dust levels within acceptable limits at all times.
Finally, ensure they carry adequate insurance coverage if there are unforeseen issues onsite or damage caused by their workers before signing a contract with them.
Checking Contractor References
It is essential to check the references of any retaining wall contractor you are considering. Make sure to ask questions about the quality and timeliness of their work and how they handle customer service issues if needed. Look for an experienced masonry contractor like The Keystone Company with a good track record with customers in Southern California.
Ask previous clients whether they would recommend them or not, and inquire about any problems they have encountered when working with them. If possible, look at pictures of completed projects to get an idea of their work before hiring them.
When checking references from retaining wall contractors in Southern California, don't forget to also ask about the scope of each job:
What type of materials were used?
Was there anything extra added on?
How long did it take for completion?
These details will help ensure that your project is done correctly and efficiently by professionals who know precisely what needs to be done.
In addition, make sure to find out whether the contractor follows building codes and safety protocols during construction. This information should give you peace of mind that your new wall will last for years.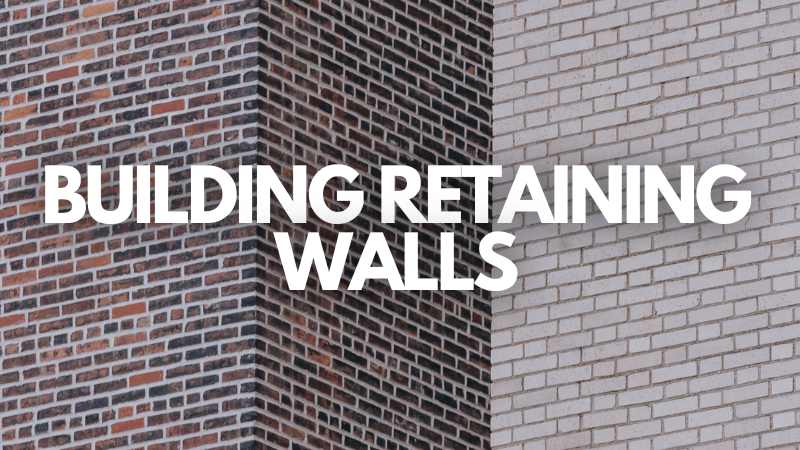 Verifying Contractor Experience
Once references have been checked, verifying the contractor's experience is important. Retaining wall contractors should be able to demonstrate their expertise by providing detailed information on prior work they have completed in Southern California.
Examples could include photos of projects they have worked on and a portfolio of customer testimonials and reviews. It is also advisable to ask questions about any specific techniques or materials necessary for a particular retaining wall project. Doing so can provide insight into whether or not the contractor has sufficient knowledge and skill to complete the job successfully.
When evaluating potential retaining wall contractors, consider asking them how long they have been in business and what specialized training or certifications they may hold. A reputable contracting firm will usually be able to provide evidence of both their years of experience and relevant licenses and accreditations.
Additionally, researching online reviews from past customers can offer valuable insight into the quality of service provided by different companies operating in this region. Ultimately, verifying an individual's credentials before hiring is essential for ensuring that one chooses the most qualified professional for their retaining wall needs in Southern California.
Understanding The Contract
When hiring a retaining wall contractor in Southern California, understanding the contract is essential. The contract should include all the details related to the project such as materials used, labor costs, and the timeline for completion. Reviewing this document carefully before signing is important to ensure that both parties fully understand their respective obligations and rights. Here are some key items to consider when reviewing a contract:
Payment Terms – Determine how much money will be due at each project stage, including any deposits required before starting work or payments made upon completion.
Scope of Work – Reviewing the scope of work ensures everyone understands what tasks need to be completed and by whom and includes an estimate for time and cost associated with completing those tasks.
Liability Insurance – Verify that your contractor carries liability insurance if something unexpected happens during construction. This protects you from being held financially responsible if the damage is caused by negligence on behalf of the contractor.
Warranty Information – Check whether or not the warranty covers material defects or workmanship issues after the installation has been completed. Ensure you clearly understand how long the warranty lasts and what specific circumstances would void it.
By considering these points, homeowners can rest assured that they're making a well-informed decision about who should build their retaining wall. Choosing a reputable contractor who follows ethical business practices gives you peace of mind knowing that your investment will stand up over time while providing attractive curb appeal for years ahead.
Monitoring The Project
Once the project is underway, it is essential to monitor progress regularly. This ensures that all tasks are completed according to plan and promptly. It also helps detect problems early to address them before they become significant issues. The contractor should provide regular reports detailing the work performed, the material used, and the timeline for completing each task. Regular meetings between the homeowner and contractor should also be held to discuss any changes or discrepancies that may arise during construction.
Inspecting the quality of materials used throughout the project is also essential. Retaining walls must meet specific standards set by local building codes; if these are not met, complications could arise later, creating costly delays and repairs. Homeowners should ensure their chosen contractor follows industry best practices when constructing retaining walls to get the longest lasting results from their investment. Additionally, homeowners should ask for samples of previous projects completed by their potential contractors to assess their skill level and experience with similar jobs.
Final Inspection And Sign Off
Once the retaining wall contractor has finished their work, they must conduct a final inspection and sign off. This ensures that all aspects of the installation have been completed according to plan and that there are no significant problems or issues with the project.
The contractor should check the following:
The quality of material used, including any special additives
The size and shape of each block; if all blocks were glued together securely
If any additional reinforcements have been added; if any drainage systems have been installed correctly
If there are any signs of water seepage around the base level, etc.
Once these items have been checked, both parties can proceed to sign off on the completion of the project with confidence.
The importance of this step cannot be underestimated as it assures that everything was done right and per expectations. In addition, having an unbiased third party inspect and approve the work also helps protect everyone involved from potential legal liabilities down the road. It is highly recommended that homeowners take advantage of such services when working with reputable contractors who value transparency and customer satisfaction above anything else.
Why Choose The Keystone Company To Build Your Retaining Wall
The Keystone Company is a premier retaining wall contractor in Southern California. With over 20 years of experience, The Keystone Company has built many beautiful walls for customers throughout the region.
Our team of experienced and knowledgeable professionals will provide you with quality craftsmanship and reliable service every step of the way. From initial design to final installation, they offer expert advice on all aspects of your project.
The Keystone Company takes pride in its workmanship and attention to detail. We use only top-of-the-line materials guaranteed to last for decades without needing any maintenance or repairs.
We also have extensive knowledge of local building codes and regulations, so you can be sure that your new retaining wall meets all safety requirements. The Keystone Company offers competitive rates, and flexible payment plans to get the best value while achieving your desired aesthetic look.
The Keystone Company understands how important having an attractive landscape is for homeowners in Southern California. That's why they strive to create unique designs tailored to each customer's needs and preferences.
Whether you need a small garden wall for added privacy or large stone columns for a grand entranceway, The Keystone Company has got you covered!
Frequently Asked Questions
How Long Does It Typically Take To Build A Retaining Wall?
Building a retaining wall requires careful planning, skill, and suitable materials. As an expert in this field in Southern California, I can tell you that constructing a well-formed, structurally sound retaining wall will typically take between one to three weeks, depending on the size and complexity of the project.
The process begins with excavation for footings or other base structures at the deepest part of the grade change. Next comes laying down concrete blocks which must be properly aligned before backfilling with stone and soil to ensure strength and stability. After these steps are completed, finishing touches, such as top caps, may be added to complete the desired look. It is essential that each layer of material is compacted correctly throughout the building process so that no structural problems arise during or after completion.
In addition to construction time, it is also important to consider permitting requirements which vary from county to city within Southern California. Depending on the location and scope of work, obtaining any necessary permits could add additional time before beginning construction. With proper preparation and knowledge of what's required for your project, you should expect a successful outcome when hiring a professional contractor in southern California for your retaining wall needs.
Are There Specific Zoning Or Building Regulations That I Need To Be Aware Of?
Building a retaining wall is a necessary process, and it's essential to be aware of any applicable zoning or regulations. In Southern California, there are specific building codes and regulations in place which must be followed when constructing a new retaining wall. This includes the height, location, materials used, drainage requirements, and more.
It is also important to consider local ordinances and laws as these can vary from county to county. For instance, some counties require walls taller than 4 feet to have a permit before construction begins.
Additionally, additional permits may be needed if the retaining wall affects public property, such as sidewalks or streets. It is always best practice for contractors to check with their local permitting office before beginning work on any project.
Understanding zoning regulations can help ensure that all applicable rules are met during construction and that the design meets local standards while providing maximum benefit and protection against soil erosion. Retaining wall contractors should consider the environmental impact of their projects, too by considering elements like runoff control measures and vegetation types that match their surroundings before putting shovels in the ground.
Are There Any Additional Costs That I Should Be Prepared For?
When considering a retaining wall project, it is essential to consider all potential costs. Many of these may be related directly to the construction process, such as labor and materials, but there are often additional expenses that may not immediately come to mind. It is wise for contractors in Southern California to become familiar with these extra costs to adequately prepare their clients' budgets accordingly.
One example of an extra cost involves permits and inspections. Depending on the size and scope of the project, certain city or county agencies must grant permission before any work can begin. In addition, once construction has been completed, some municipalities require verification that the job was done correctly by a certified inspector. These fees vary across different jurisdictions and should always be considered when estimating the total cost of a retaining wall project.
Other possible expenses include unique materials needed for specific soil types or climate conditions and any necessary equipment rentals required during installation.
Finally, depending on how much assistance is provided by homeowners—such as providing access to water and electricity at no additional charge—there may also need to be allowances made for utility bills incurred throughout the build. By researching all applicable regulations in advance and anticipating any additional expenses associated with them, contractors in Southern California can provide accurate estimates for their clients without risking unexpected financial surprises down the line.
Can I Make Changes To The Design Of The Wall During Construction?
It can be beneficial to have some flexibility when constructing a retaining wall, as this allows homeowners and contractors to customize their projects according to personal preferences or needs.
When discussing this topic with a prospective contractor, several key points should be addressed:
Cost implications: Changes made during the project can affect its cost and timeline. Homeowners should understand these additional costs before committing to making any changes.
Design expertise: The ability to make modifications on-the-fly requires experienced professionals who know how best to implement them without compromising quality or function. This is why choosing a certified retaining wall contractor with extensive knowledge of local building codes and regulations is essential.
Durability: Any alterations must maintain structural integrity and strength over time. A qualified professional will ensure modifications don't negatively impact your structure's durability by using high-quality materials and craftsmanship standards.
When selecting a retaining wall contractor in Southern California, it's essential to ask about their experience in making adjustments throughout construction projects. Experienced professionals should be able to answer questions regarding all aspects of modifying designs mid-build, from cost considerations and design expertise to ensure long-term durability once completed – leaving you secure in the knowledge that you'll get the perfect result every time!
Conclusion
Installing a retaining wall can be vital to any landscaping project, and hiring the right contractor is essential. Understanding what goes into building a successful retaining wall before selecting a contractor is essential. Knowing how long it typically takes to complete construction and zoning and building regulations that must be met are key considerations when choosing a contractor.
Additionally, understanding additional costs beyond materials and labor will help with budgeting for the project. Lastly, viewing examples of previous work by potential contractors helps ensure expectations are understood and met throughout the process.
Making changes during construction can present unforeseen challenges; however, experienced contractors should have strategies to address these issues before they arise. Asking questions about their experience addressing design modifications allows homeowners to feel confident that their vision for the finished product will be achieved while staying within budgetary constraints.
Working with an established professional with extensive experience designing and constructing walls throughout Southern California gives peace of mind knowing that all relevant permitting processes have been completed correctly and efficiently.
Retaining walls is integral to many landscaping projects, and finding the right contractor is critical for success.
Researching local zoning laws, reviewing portfolio samples from prospective candidates, asking pertinent questions about experience with design adjustments during construction, and verifying proper permits are acquired ensure that your new retaining wall looks great and meets all legal requirements.